Getting to Hotel
Via Yuirail (Monorail)
Just 2-minute walk from Kencho-mae Station and you're ready to check in.

Naha International Airport → Take the Yuirail (monorail) → Kencho-mae Station
→ Leave from Exit 1 → Walk left towards Kokusai-dori → Turn left at the first crossing (with Mizuho Bank)
→ You will see a tiger with こくさいどおり written below it. Walk towards your first block
→ Turn left → Hotel entrance with stone tiger next to staircase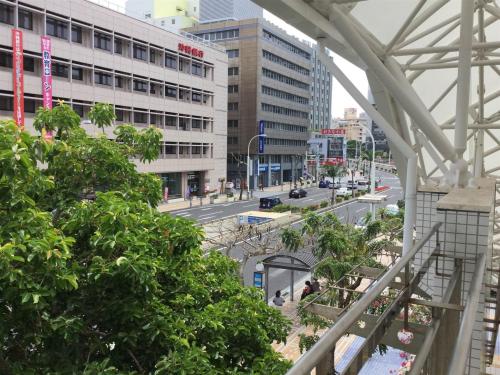 (view from Kencho-mae Station) You can see the Kokusai-dori crossing and the blue Mizuho bank sign.
(view from the other side of the road) Turn left at the crossing and you will see the white background, orange lettered hotel sign on the left side of your first block.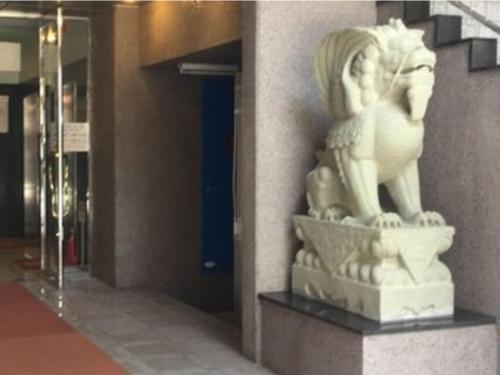 Walk inside the block and you will find the tiger on your left side. This is the entrance of our hotel.
By Car
Just a 15-minute drive from Naha International Airport.
Prefectural Underground parking (Kenmin-hiroba Chika Chushajo)
Charge for 4 wheeler: 1000 yen / night
Charge for motor bike : 350 yen / night
◎ This parking is an affiliated parking and guest from our hotel can use it from 5:00p.m. to 10:00a.m. of the next day.
◎ It is closed from 11:30p.m. to 6:00a.m. of the next day.
◎ Once parked, you will receive a yellow parking ticket. Please bring it to our Front Desk for payment and we will provide you another ticket.
◎ The parking area takes around 5 minutes by foot from our hotel.
◎ Parking area has size limits of the vehicle as following.
  Height: maximum 2.2 meters
  Length: maximum 5.6 meters
  Width: maximum 2.0 meters
※ Parking space within our hotel building does not belong to our property.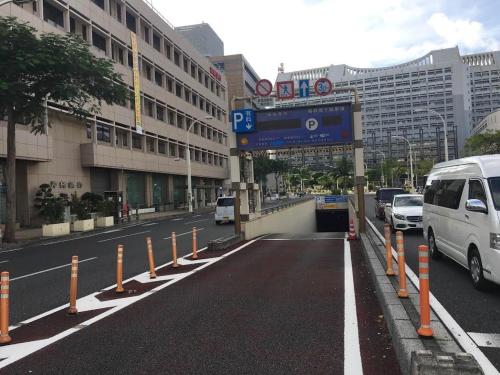 There are two entrances in this parking. The entrance is nearest to the monorail station called Kenchomae station. In the middle of the road, you can find the underground entrance between Okinawa Bank and Palette kumoji building.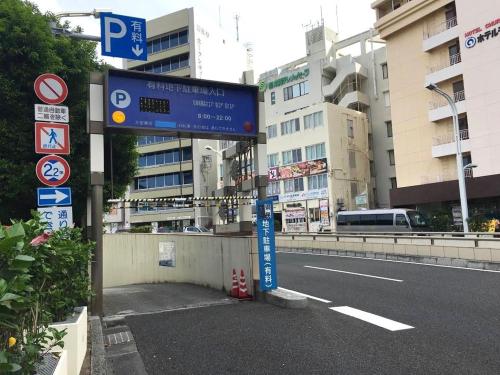 This is another entrance from Okinawa Prefectural building side.